The M9 is a 9x19mm Parabellum pistol of the U.S. military adopted in the 1980s. It is essentially a military specification Beretta 92F, and later the 92FS. The M9 won a competition in the 1980s to replace the M1911A1 as the primary handgun of the U.S. armed forces. It officially entered Army service in 1990.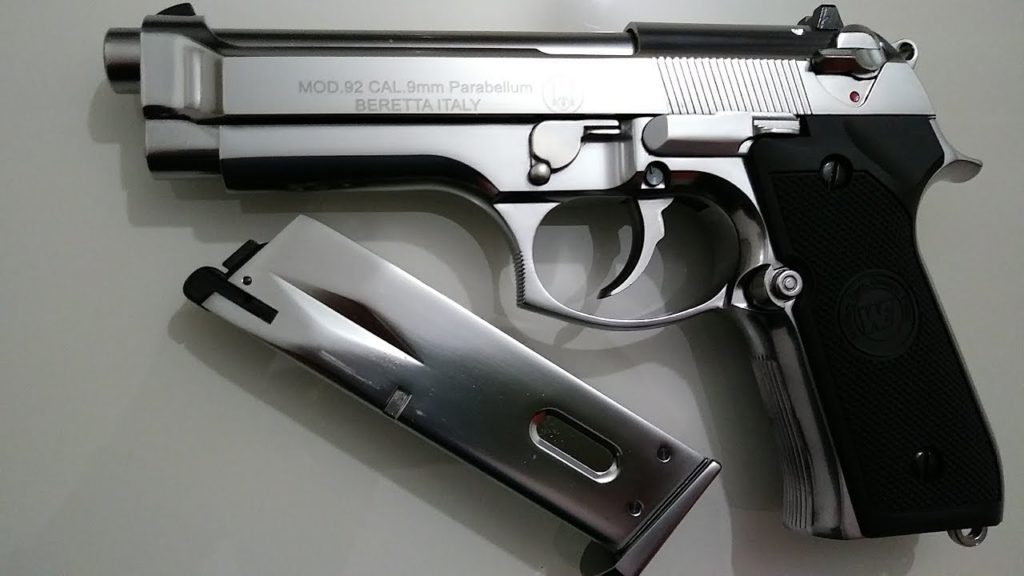 Beretta M9A1 is specially designed for USMC which were to replace the old 1911 series almost entirely. The pistol is double action, with better grips, more aggressive serations on the slide and houses a picatiny rail under the frame. This was to be an update to the older Beretta 92F model.
What Beretta did first, Marui followed. The Marui M9A1 has clearly better grip for making the magazine changes easier. There are more serrations on the slide to aid the cocking of the gun and finally there is an accessory rail under the frame, where the user can add their lights and lasers.
Internally Marui has also changed their Beretta. The biggest change is now long waited adjustable Hop-up, which has been missing from the old Marui Berettas. Now Beretta also belongs to the series, where you can adjust the hop-up and thus make the gun more suitable at the users needs and increase the accuracy.
As expected, the Marui gas gun is technically finalized until the last and the smooth functioning of the parts which makes the gun really accurate and smooth to use. There are also authentic logos and licenses on this pistol on the slide and frame. This gun is an idea base for anyone who is shooting Production Division!
Although the Marui Gas Guns look poor in the light of numbers when it comes to velocity, the practical performance is quite unique in their class. Accuracy and range are world-renowned, and Marui is therefore the most popular brand among the pro shooters and sports shooters. The quality and good design of parts is also reflected in the fact that the Marui's weapons that have been in use for more than 10 years are still working like day one.
Features :
1:1 Ratio realistic gas blow back airsoft pistol.
Functional Slide Lock.
Non Slip Special Textured Slide.
Non Slip Special Textured Grip offer firm hold of pistol with gloves on.
White Dotted Front Sight and Rear Sight.
Plastic Slide with "U.S. M9" Marking.
Badged "U.S. MILITARY MIL 233560" on grip.
Adjustable Hop-Up System.
Safety button act also as a Decocking lever.
Equipped with 20mm lower rail for Flashlight or Laser Sight attachment.
Gas Blow Back Pistol with Semi-Automatic Shooting Mode.
Lanyard Mount Ring at the bottom of Grip, allow to install the Lanyard.
Able to shoot out 280 fps in using 0.2 gram BB and Top Gas.
26+1 Rounds Loading Capacity Magazine.
Specifications :
Length : 216mm
Barrel Length: ~115mm
Hop-up : Adjustable
Shooting Mode : Semi-Automatic
Power Source : HFC134a & HFC22 Gas
Weight (Gram): 1286(With Box)
Color : Black/ INOX
Magazine Capacity :26+1
Materials : Polymer/Metal
Bullet Type : 6mm BB
Power (Muzzle Velocity) : 280 fps, 370fps with extended threaded inner barrel
Manufacturer: Tokyo Marui