SIG Sauer released its P320 M17 earlier in 2018. The pistol is a civilian variant of SIG's U.S. Army service pistol. Now the manufacturer has taken it one step further with the just-announced SIG M17 Air Pistol.
SIG AIR ProForce products are designed as replicas of their centerfire counterparts in look, balance and handling characteristics and engineered to SIG standards for precision, accuracy, and reliability.
The SIG AIR ProForce line of airsoft guns is designed for professionals who train frequently and want the option of training safely in realistic force-on-force scenarios," said Joseph Huston, Vice President and General Manager of SIG AIR. "SIG SAUER is a huge proponent of training, and we will continue to offer our customers numerous new product options to facilitate the safe practice of gun handling and target shooting in various environments."
The new SIG AIR ProForce M17 airsoft pistol is similar in look and feel to the U.S. Army issued P320- M17 9mm pistol and features a polymer frame and metal slide with full blow-back action. The proprietary drop magazine holds 21 rounds of 6mm polymer or biodegradable BBs. An adjustable hop-up feature creates spin on the BBs for additional stabilization in flight, resulting in increased distance and accuracy. A picatinny accessory rail allows for quick and easy mounting of a laser or tactical flashlight.
Available in two power source options – 12g CO2 cartridge or green gas – the SIG M17 Airsoft pistol will be available with an optional optic plate mount for red dot sights. Velocity is up to 330 fps with muzzle energy of 1 joule (using a .20-gram polymer BB); however, results may vary depending on temperature and altitude. Available in Coyote Tan.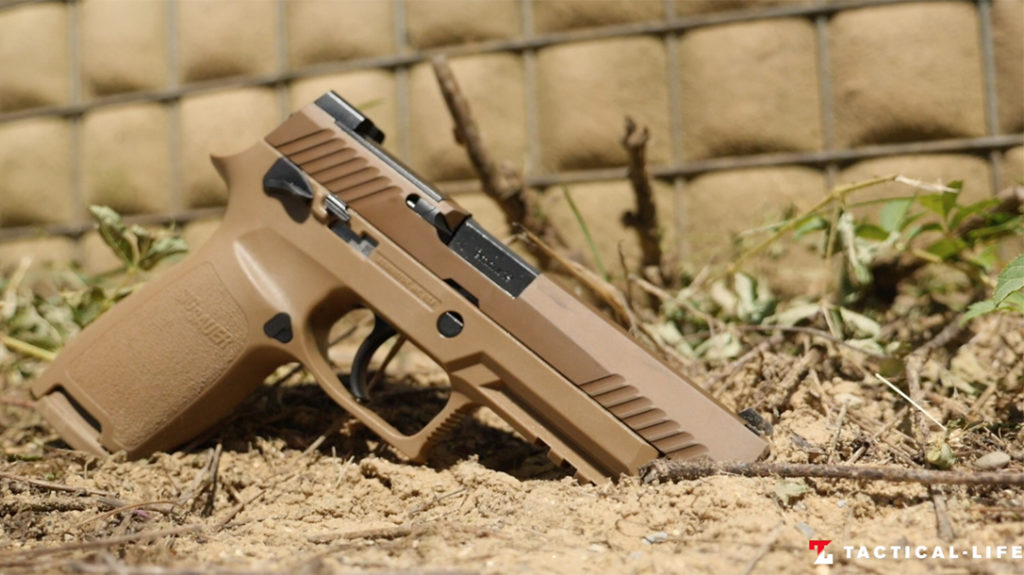 ProForce M17 Airsoft Pistol:
Total length: 8.5"
Barrel length: 5.5"
Weight: 2.6 lbs.
Finish: Coyote Tan
Muzzle Velocity: up to 330 fps
Muzzle Energy: 1 joule
Caliber: 6mm BB
Magazine Capacity: 21
Power Source: CO2 or Green Gas