Crosman have had a full-sized, CO2-powered revolver in their line up ever since the 38T and 38C models were first offered to the general public in 1964 – and which I reviewed in a recent issue. Today, the 10-shot Crosman Vigilante's overall profile loosely resembles a 357 Magnum rather than the Smith & Wesson Masterpiece revolvers the 38s were modelled on. The Vigilante comes in a clamshell pack with basic instructions and two magazines, as mentioned. One 'mag is intended for pellets and the other takes BB/ball. The packaging does nothing for collectors of the future, or the environment, because it's a throwaway design and can be difficult to open with anything less than a very sharp implement. Bearing in mind the cheap price of the pistol, I would recommend splashing out on a case or pistol rug along with some CO2 and ammunition.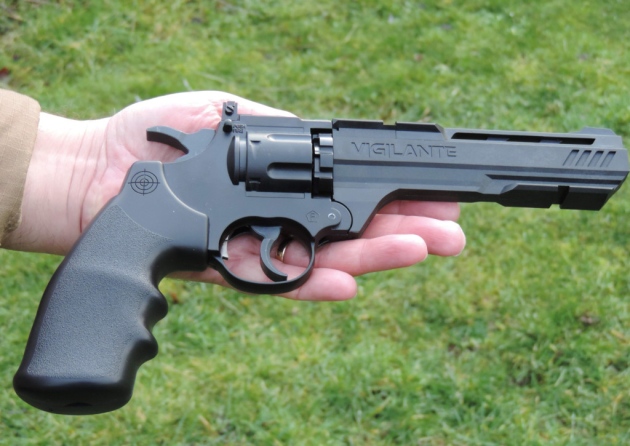 So, it's a cheap pistol, but what do you get for your money and why is the Vigilante so popular in Bognor? Well, it's a CO2 repeater that has a rifled barrel, unlike many more expensive rivals. Fitting the CO2 cartridge in the grip is a doddle after the grips have been removed and the piercing screw tightened. As for magazine changes, that's even easier. Simply press down on the release catch above the breech and the front half of the revolver breaks down for loading, rather like a shotgun or Webley revolver. The catch is a little stiff when new, but soon wears in with some use. With some practice, I was able to unload the empty magazine and load up with a pre-loaded spare within a matter of seconds.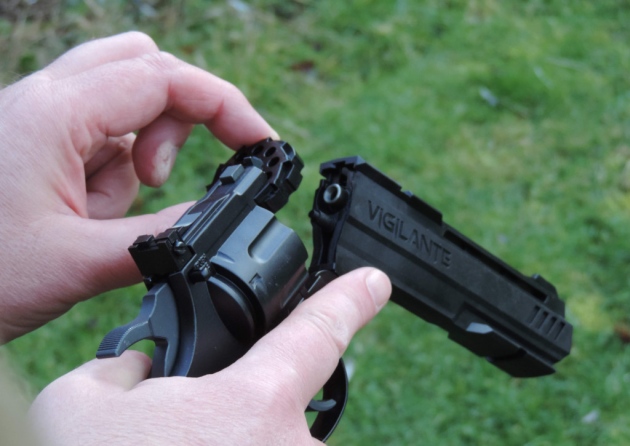 Unlike several more expensive CO2 pistols, the Vigilante's rear sight is adjustable and together with the rifled barrel, this helps to guide pellets or ball toward the target with above average accuracy. The full-sized grips were a little small for my fairly large hands, but the revolver was far from uncomfortable to use. The synthetic grips have a rough texture which helps to maintain a consistent grip, and in line with the 357 Magnum profile, there is no beavertail-style tang below the hammer. I would have welcomed such a feature because it helps to maintain a consistent grip, especially during rapid-fire strings. However, it was not impossible to maintain a consistent grip securely with the Vigilante, and the hefty revolver was reasonably comfortable to use.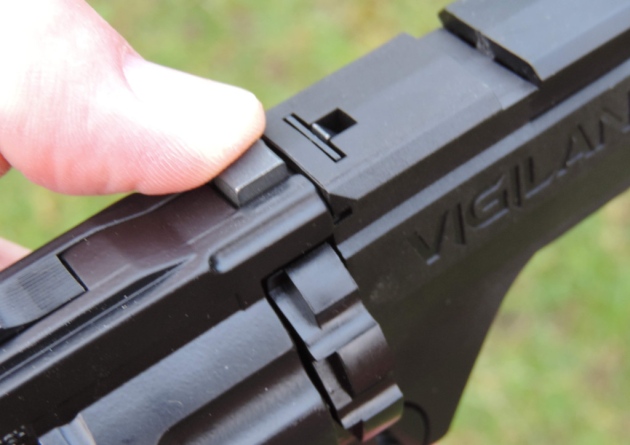 The Vigilante may be fired single- or double-action at the firer's discretion. For accurate well-aimed shots, I would recommend manually cocking the hammer for single-action because this provides a trigger pull weight of 5.1 pounds. The trigger itself felt crisp and broke cleanly with no creep. Although a little heavy, it was well above average, considering the competitive price of this pistol.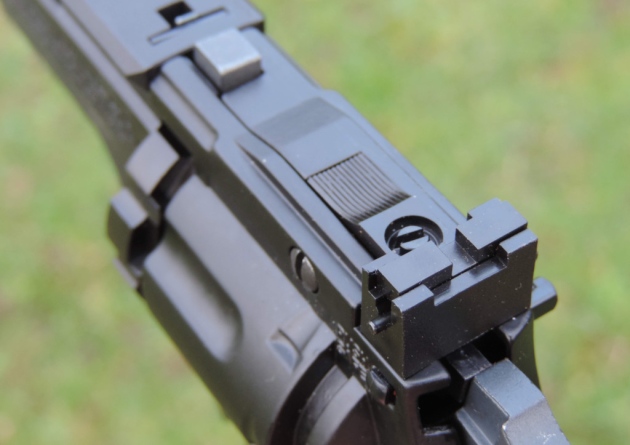 If more rapid fire is preferred, the trigger can be pulled with the hammer down for a double-action pull that averages 7.3 pounds in weight. Doing so raises the hammer and releases it after it has reached the full extent of travel. Releasing the trigger allows it to re-cock itself in readiness for another pull. Rapidly firing a CO2 revolver on double-action will soon empty a magazine, but please bear in mind the more rapid cooling of the CO2 cartridge will result in progressively lower muzzle velocity with each shot.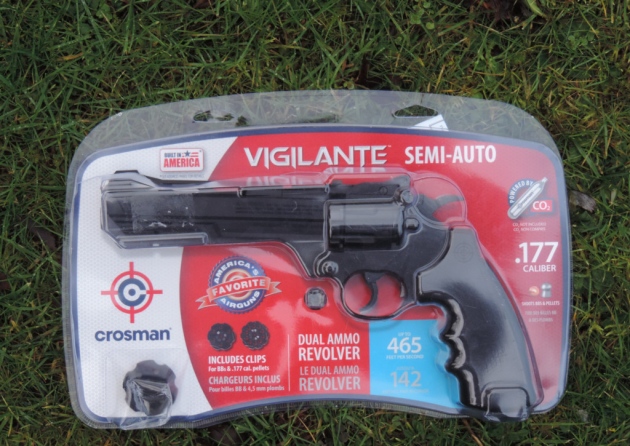 For consistent accuracy, single-action slow fire with around a 30-second break between shots will get you the best from this revolver. I brought the Crosman down between shots, rested, took a couple of deep breaths and then brought the pistol back up into the aim, just as though I was shooting a 10-metre match. Whilst it is wise to zero the sights this way, and it is undeniably satisfying to see tight groups appearing downrange, this is probably not the best way to enjoy a repeater such as the Vigilante. Nope, a multi-shot is best enjoyed in rapid-fire mode, using the double-action facility and a two-handed grip. It can also be quite hard to remain disciplined enough to wait between shots when you know you have a cylinder full of ammunition at your disposal. I therefore had the most fun when I engaged a variety of targets outdoors such as suspended tins, round discs, Nockover skittles and bells.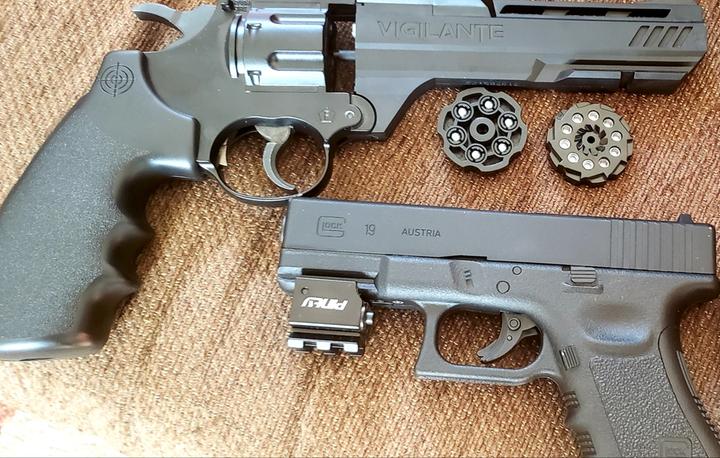 This little pistol is perhaps not the best known, but if you're looking for a multi-shot revolver with adjustable sights and a rifled barrel that handles pellets or ball, the Vigilante has to be worth a look, especially at this price.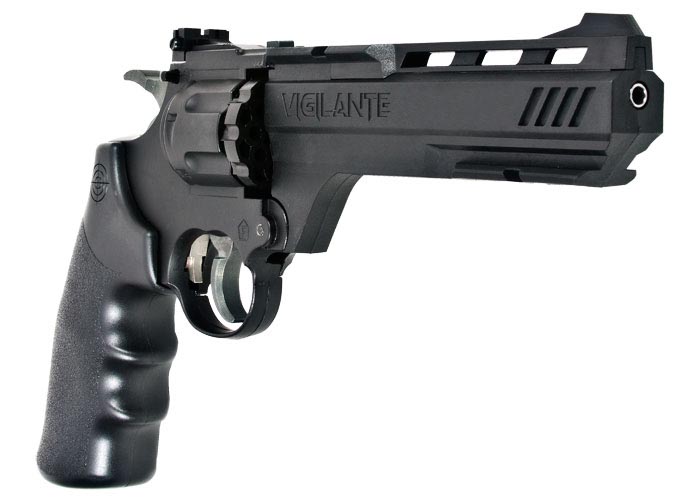 Manufacturer Crosman
Caliber .177
Velocity 465 fps
Ammo Type Pellets
Action Revolver
Barrel Style Rifled
Fire Mode Repeater
Gun Weight 2.00
Overall Length 11.38
Barrel Length 6.00
Loudness 4-Medium-High
Mechanism CO2
Rail No
Front Sights Blade
Rear Sights Adjustable for windage & elevation
Trigger ActionDouble-Action & Single-Action