Features
Metal slide blows back creating a realistic kick
Hop-up system built-in
Drop-out BB magazine for added realism
CO2 concealed in the grip
FPS: 380
Color: BlackLOOK FOR the Unique Lines and Distinctive Shape of the P99 replica as a TRADEMARK of Walther.
CO2 airsoft pistols come and go, but Walther is known for a tradition of innovation. Add the P99 CO2 airsoft pistol to your game. The Walther DAO P99 airsoft gun shoots with precision and accuracy.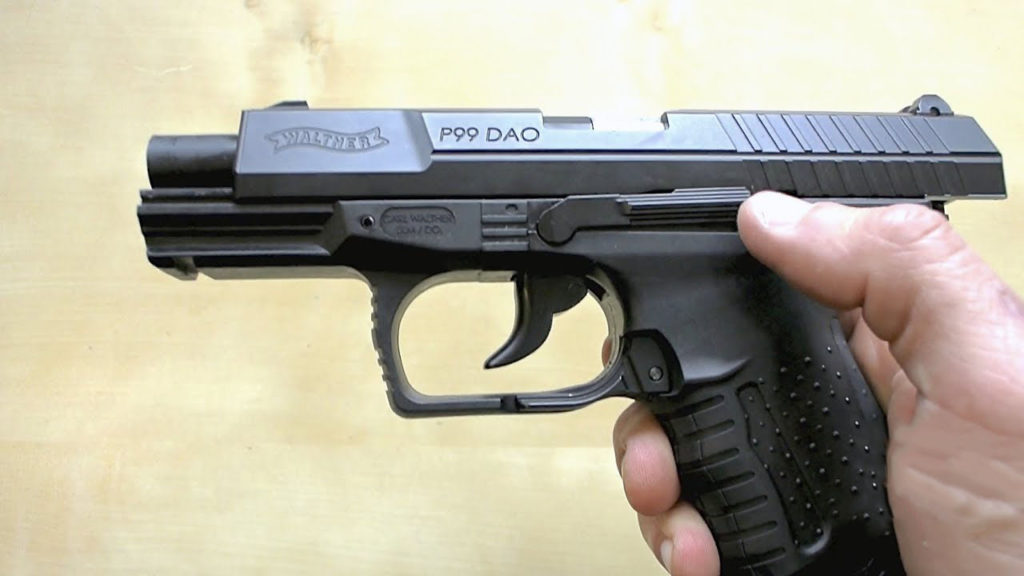 Power : 12g CO2 cartridges
Capacity : 15
Safety Type : Manual
Ammo Type : .20 6mm Airsoft BB
Total Length in Inches : 7.25
Velocity- FPS : 380 FPS
Manufacture: Walther / Umarex USA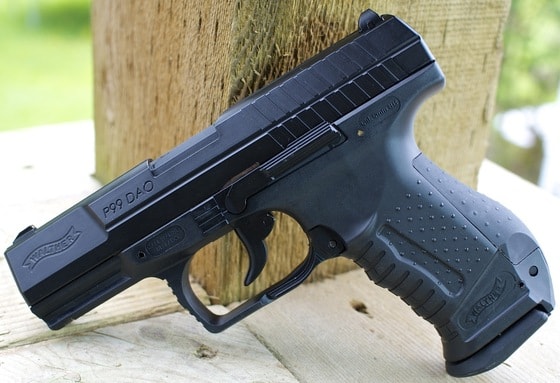 The gun itself is very durable and easy to use. The CO2 cartridge slides right in the back without the use of tools and is super efficient.Comes with a metal slide that blows back with an impressive kick, and the co2 lasts long enough for most any game type; barring maybe a milsim where your primary breaks down and you need to use it more. I can get through about 10 magazines (150 shots) before any noticeable drop in performance, but before that happens the gun is pretty accurate (if you can control the recoil lol) and the slide locks back when your mag is empty, which is a nice feature to have included. Overall a great side arm for the price, and I'll be sure to keep it in use for a long time to come. I havent had any problems with it and I would recommend it to anyone wanting a gbb on a budget. It's perfect for indoor CQB fields being sub 350fps and no hop up.
I can say that the gun itself is extremely durable because I've dropped it on two occasions at roughly 4 ft high and came out with a few paint chips and a broken orange tip. I will say the outer barrel is plastic but, that made it much easier to saw off the orange tip and made the barrel flush with the front of the metal slide.
The metal slide is purely cosmetic as you can't see into the chamber and gun itself when the gun is discharged or racked. This is good so that the internals are much easier to keep clean when out in the elements. Bad if your into Mil-sim and realism. On that topic, the gun uses stick mags that look awfully hilarious by themselves and are not too immersive, again, if you are really into realism. However, those are still subject to user preference and I certainly don't mind.
The gun is double action only if you couldn't tell by the DAO plastered on the gun. This means the gun cocks and fires on the trigger pull. This makes the gun very easy to use. But, the caveat is that the pull is a bit longer. Honestly though, once you get your hands on this its not a big deal.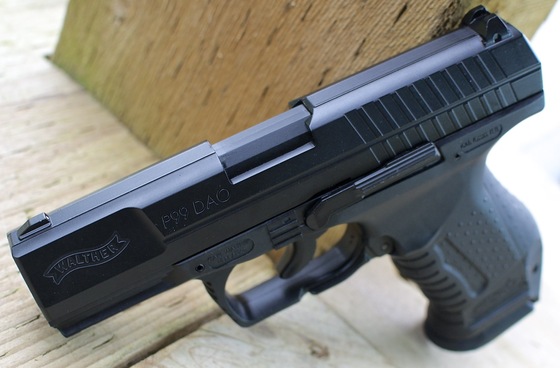 Pros:
Strong blowback
Slide locks
Metal internals and slide
Comfortable to hold
Cons:
Spare mags are a bit costly at ~$12 (although this isnt much as gbb mags go)
Can be rather inaccurate at long ranges if firing rapidly
Magazines have a cap at the bottom making them a bit tricky to store in a pouch.