Despite the existence confirmed, many of the Delta Force special troops are still wrapped in mad. Black color version of 'HK 416 Delta Custom' they are using appears!
A characteristic and slim Guysley type rail hand guard, receiver, grip and stock are also unified in black. It is different from Delta Custom which is summarized with five colors of different color tones, it is a solid model.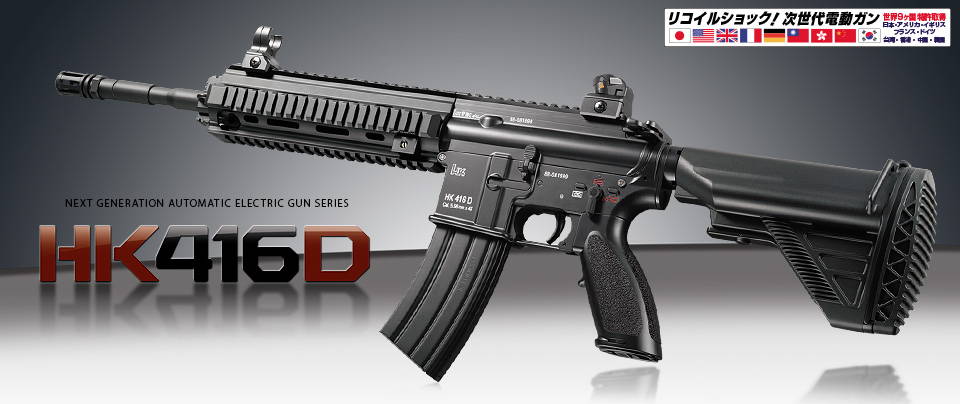 Major Features:
Shoot & recoil engine installation: By pulling the trigger, weights simulating bolts are activated simultaneously with launch, and intense recoil generated inside the main body is transmitted to the whole body. Also adopted is an auto stop system which stops firing operation when the magazine becomes empty. It is a model pursuing reality of operation and operability.
Super modular rail (SMR) HK type: Hand guard adopts rail removable SMR HK type. By minimizing the installation of the rails, the hand guard part is slimmer and lighter. The additional rail comes with three longs, one long and two short. Moreover, by reproducing the genuine article, the reproducibility of the detail is raised.
Strong sense of black color: A delta custom consisting of five different tan colors with different colors is unified by black color for each part. It is a solid style and a feeling of weight.
Reproduction of various gimmicks: Reflects gimmicks unique to HK 416D such as ambi selector which can be operated with either left or right hand, trigger guard opening and closing function, and so on in delta custom. Also, the crane type stock can be adjusted in length to 6 stages.
Exceptional rigidity realized: Metallic materials are adopted for various parts such as receiver, outer barrel, buffer tube, flash hider and others. While adopting a full floating barrel that hand guard does not interfere with barrels, we have realized a safe rigidity for game use.
Possible backup site: A front site that can be adjusted vertically, a rear site that can be adjusted up, down, left, and right are foldable considering the use of optical sites. Also, since it is mounted via the mounting rail, it is also possible to change the attachment position and detach it.
Corresponding to various muzzle options: If you remove the flash hider of the muzzle, you can install a muzzle option with a 14 mm reverse screw specification such as a silencer.
Steel press magazine: 82 magazines and a magazine that adopts a steel press outer case similar to a bonnet are included. ※ There is no magazine compatibility with the electric gun standard type.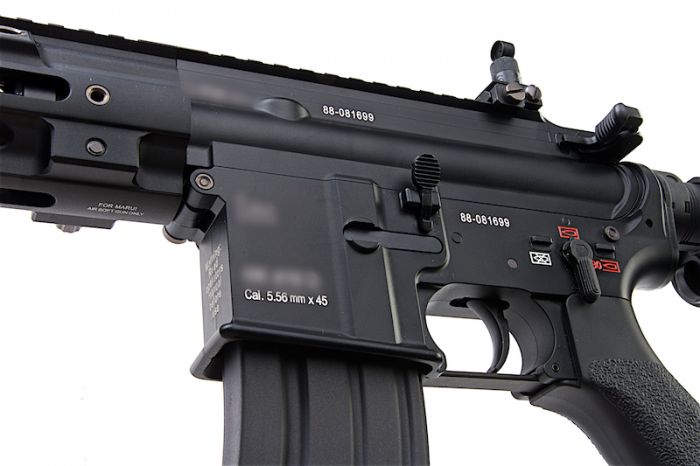 Details –
– Full Length – 711 mm / 787 mm (at the time of stock extension)
– Inner Barrel Length – 275 mm
– Weight – 3,365 g
– Ammo Type – 6 mm BB (0.2 to 0.28 g)
– Power Source – Electric – Proprietary 8.4v 1300mah 
Review
This 416 is a new TM delta Custom. As you know, HK416 is an excellent M4 alternative. But this time it was designed by TM and in the form of EBB form. This really excites us because the TM brand's EBB replicas are really successful. Most of them have 600 gr. recoil. It is much better quality than most EBBs in the market. Of course, it is not a coincidence that this is done by the TM brand. For its quality, you need to consider some fee, but after that it is more realistic and satisfying than any other replica. Also, This Rifle Receiver, Outer barrel, stock buffer tube as well as a lot of other parts are constructed out of steel. The barrel is a full float barrel without any contact with the handguard for much better stability. The fire selector is ambidextrous, the trigger guard is removable. With 82 rd Steel Magazine (This fits other Tokyo Marui Next Gen M4s), The "recoil shock" system supplies a powerful and impressive recoil and copies the bolt movement every shot. The weapon is furnished with a system that stops it firing once the mag is empty to enhance reality as well as functions of the replica. Also, if I need to add more, make sure that it is compatible with this EBB when purchasing a replacement magazine.