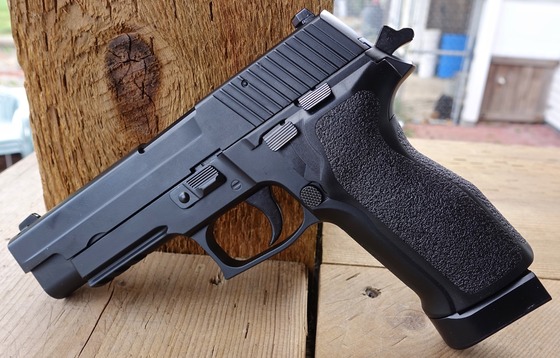 Type: 6mm Plastic BB Airsoft Pistols.
Manufacturer: KJWorks
Materials: Metal slide & frame.
Weight: 2 pounds (920 grams).
Barrel: Metalnon-rifled smooth bore.
Propulsion: 12 Gram CO2, green gas
Action: Single and double action.
Ammunition Type: 6mm plastic Airsoft BB's.
Ammunition Capacity: 26 rounds.
FPS: 350-400 fps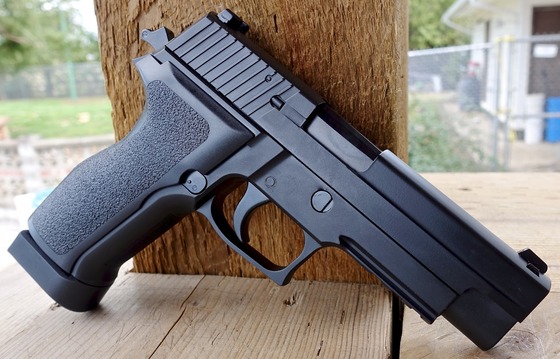 Trigger Pull: The trigger pull on the KJWorks KP01-E2 Sig Sauer P226 Airsoft Replica is good in both single and double action. Once the slide is pulled back and released the first round is chambered and the hammer will remain back placing the KJWorks P226 in single action mode, the pull is light and the take-up is nice and short, most of your shots will be in single action mode unless you use the de-cocker to lower the hammer for a subsequent double action follow-up shot, double action shots are still pretty light but much longer in order to cock the hammer back.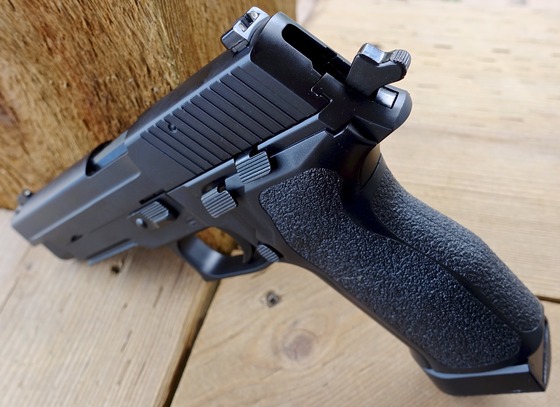 Accuracy: (I have not shot the KJWorks distributed CO2 Mag version but I have already done a Field Test Shootinng Review for the same KJWORKS gun distributed and licensed by Cybergun in the Gas Mag version. Here is what I had to say about the Cybergun Gas Magazine version: "Shooting the Cybergun Sig P226 from 20 feet out in semi rested position I was able to get very good results. I placed 10 rounds in about 1.5 inches with the shot placement being a bit low possibly due to my barrel mod, adjusting the hop-up may bring the aim point back up to where it should be. The Sig Sauer P226 Airsoft Replica shot right around the 316 fps range while conducting my 5 shot average chrony testing which was lower than advertised but I was using much heavier .20 gram BB's. You can expect to get a full magazine worth of shots out of each gas fill-up but I did notice that as the magazine got colder it did tend to become much less efficient and also seemed to vent a lot of vapor."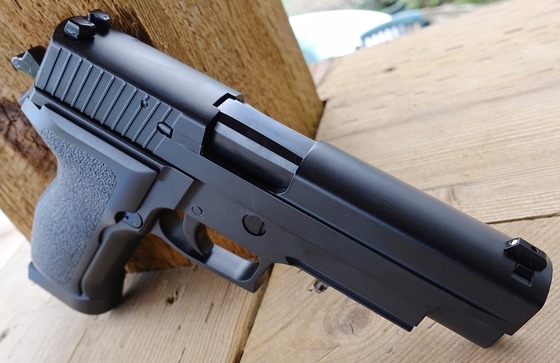 Build Quality: The build quality for all KJWorks guns in my opinion is one of the best in the business. Fit and finish is top notch with close tolerances in the working parts as you would find in a real steel gun. The paint is excellent and in general will wear much better than other Airsoft guns out there. The KJWorks KP01-E2 (Sig Sauer P226) CO2 Blowback Airsoft Pistol is pretty much all metal and feels it, the recoil spring is nice and firm and all working parts are smooth and crisp when operated.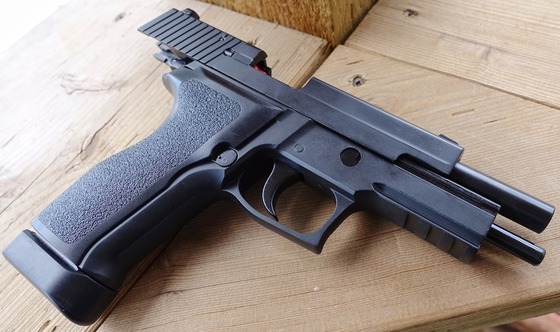 Realism: The KJWorks KP01-E2 (Sig Sauer P226) CO2 Blowback Airsoft Pistol is a replica of the real steel Sig Sauer P226 with the exception of the licensing. The KJWorks KP01-E2 really is a great looking and functioning Airsoft Replica. You can field strip this gun exactly like a real Sig Sauer and all the mechanical parts work just the same including a working de-cocker and adjustable front sight. It is really hard to distinguish the Airsoft version from the real Sig P226 in both looks and feel.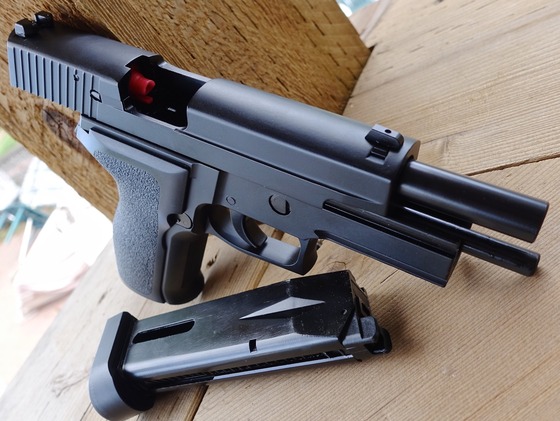 Pros:
All metal pistol with good overall realistic weight to it.
Very crisp and firm full blowback operation.
Some of the best fit and finish in the industry. Especially in price range.
Nice accurate looking and working Sig Sauer P226 Replica.
Working de-cocker.
White dot sights for quick target acquisition.
Front sight is adjustable for windage.
Full size drop out magazine holds Airsoft BB's and CO2.
Fully field strip-able.
Cons:
No actual Sig Sauer Licensing but very clean look.
CO2 Mag does stick out a bit and add to size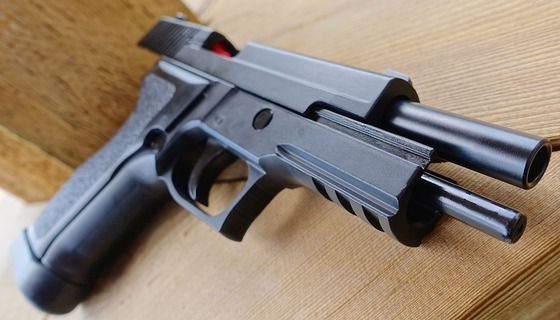 Comments:
I am a huge Sig Sauer fan so I have kind of high expectations with a replica gun! The KJWorks lineup as a whole is really fantastic, and what I say about the KJWorks KP01-E2 (Sig Sauer P226) CO2 Blowback Airsoft Pistol can be said about the entire lineup. KJWorks makes a super well built product that replicates the real steal version almost exactly other then they shoot Airsoft BB's instead of actual bullets. When holding a KJWorks gun in the hand you can feel the quality, in weight, ballence and especially when operating the slide, trigger and other working parts. Everything just feels so perfect and responsive. For the money you can not go wrong with the KJWorks KP01-E2 (Sig Sauer P226) CO2 Blowback Airsoft Pistol or any other KJWorks gun for that matter.