About Cybergun / Spartan Mil/LE
Cybergun is the world leader in designing and distributing replica dummy weapons for video game aficionados, sport or outdoor shooting, and collectors.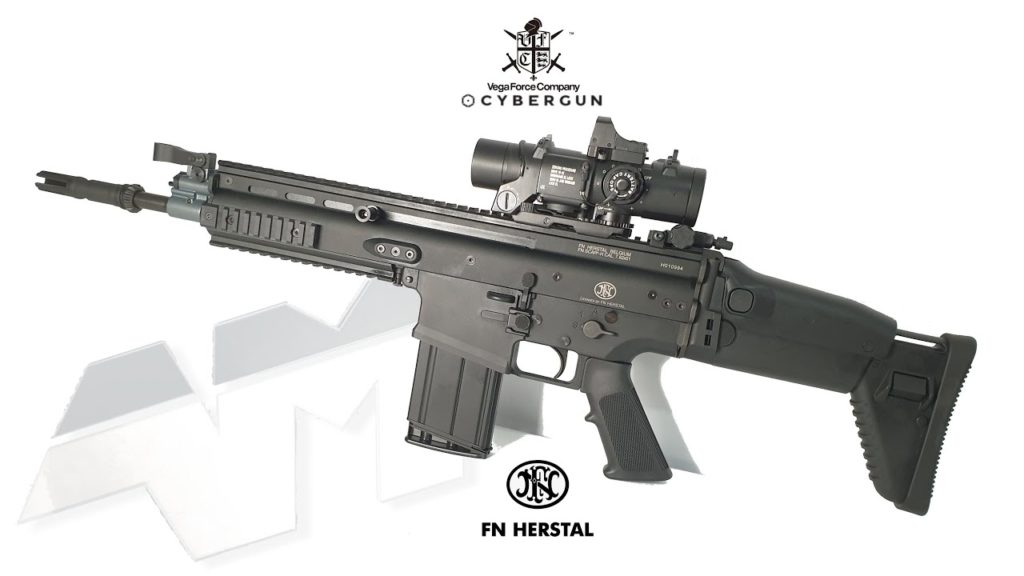 Features
Fully licensed by FN Herstal
Aluminum upper receiver with metal barrel assembly
Nylon reinforced polymer lower receiver
6-position retractable and foldable stock with comfortable rubber buttpad and adjustable cheek riser
Ambidextrous selector switch, magazine release, and charging handle
Flip-up front and rear sights
Full length top rail for optics and front rail system for tactical accessories
Battery wiring hidden in stock
FPS Range: 370-400

Color: BlackVFC has really gone above and beyond in recreating what most would argue to be the best and most accurate SCAR in the airsoft industry. The upper receiver is expertly CNC machined out of a single block of high strength aluminum for exceptional durability and also features fully licensed trademarks that are beautifully laser etched into the receiver for authenticity.
The internals feature reinforced high performance parts to ensure uncompromised reliability and performance out of the box. VFCs full metal version 2 reinforced gearboxes come standard with CNC steel gears and their spring auto-shim system that reduces the need to shim the gearbox to achieve optimum performance. The upgraded spring guide, light weight polycarbonate piston and airtight cylinder allow the gun to stand out as a solid contender amongst the best that airsoft has to offer.
About the FN SCAR:
The Special Operation Forces Combat Assault Rifle (SCAR) was developed by Belgian arms manufacturer FN Herstal (FNH) as a reliable, low maintenance, modular combat rifle for the United States Special Operations Command (SOCOM) to replace the tried and true M4A1 carbine used by Special Forces units across various branches of the US Military.
The FN SCAR features ambidextrous controls such as an ambi selector and mag release as well as a reversible charging handle allowing the operator to configure the rifle to their preference. The CNC one piece upper receiver features an uninterrupted Picatinny top rail with two removable side rails and a bottom rail to mount any MIL-STD-1913/Picatinny accessories. The high strength polymer lower receiver helps cut down on the over-all weight of the rifle while still maintaining most of the controls of the already familiar M4/M16 system. The telescoping, folding stock allows the rifle to be fully adjustable for length of pull to accommodate any operator. With the stock folded, the SCAR offers a significantly lower profile than even the M4A1 allowing for easy storage and transportation.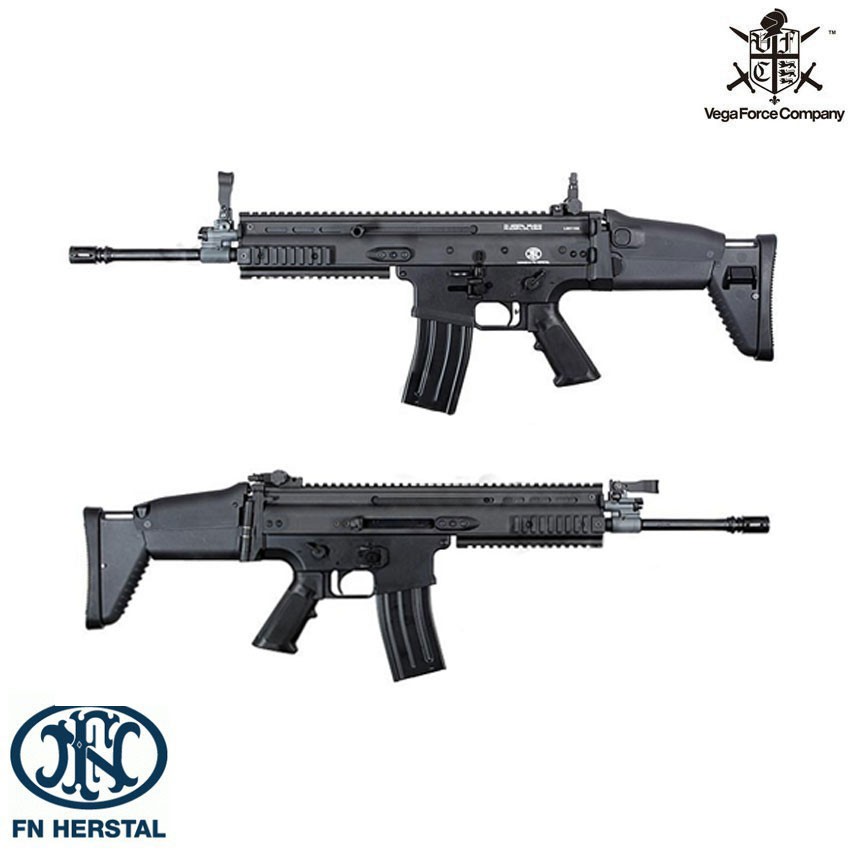 Length: 625mm / 805mm-865mm (Folded / Adjustable)
Weight: 3100g
Inner Barrel: ~380mm
Magazine Capacity: 300rd Hi-Capacity. Works with Tokyo Marui, G&P, Matrix and other compatible M4 / M16 Series Airsoft AEG Magazines
Muzzle Velocity: 370~400 FPS (Measured with 0.20g BBs)
Thread Direction: 14mm Negative
Gearbox: Ver 2 Full Metal, Fully Upgradeable
Motor: Long Type
Fire Modes: Semi/Full-Auto, Safety
Package Includes: Gun, Magazine, Manual
Battery: 9.6v Small Type NiMH / 7.4v Small Type LiPoly recommended (Battery not included)
Hopup: Yes, Adjustable