About Elite Force / Umarex
Since 1972 Umarex has created a world of adventure for sport shooters, recreational shooters and hunters. Its high-performance, high quality models permit training under highly realistic conditions.
FPS Range: 360-420
Color: BlackUmarex Licensed H&K G36K Carbine Airsoft AEG Rifle
Features:
Built-in G36K Type Railed 3X Scope carrying handle.
Receiver Engraved with Officially Licensed Heckler and Koch (H&K) Trademarks by Umarex
Includes Unique Serial Number on Each Receiver
Realistic 1:1 scale construction with approval from the real manufacturer
Realistic Take down Requires No Tools for Disassemble
Easy Power Upgrade.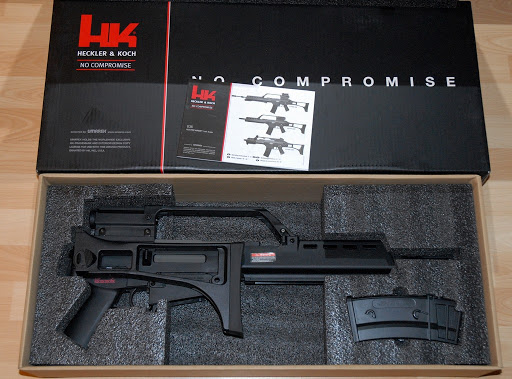 Easy battery replacement.
One Piece high strength Polymer body like the real thing.
Functional Bolt Lock / Release.
Realistic Gas Block, Piston & Barrel Locking System
Realistic H&K G36 Side Folding Stock with Recoil Pad
Realistic Ambidextrous Fire Selector Switch
Realistic Side Folding G36K Stock
Realistic Flashhider.
New Electric Blow Back System adds realism with each shot!
14mm Clockwise Threaded Aluminum One-Piece Outer Barrel
Fully Functional charging handle opens bolt cover to adjust hopup
Fully Functional Magnified Combat Sighting System
Shortened "Kurz" Carbine Length Barrel
Fits AG-36 Type Grenade Launcher (Sold separately.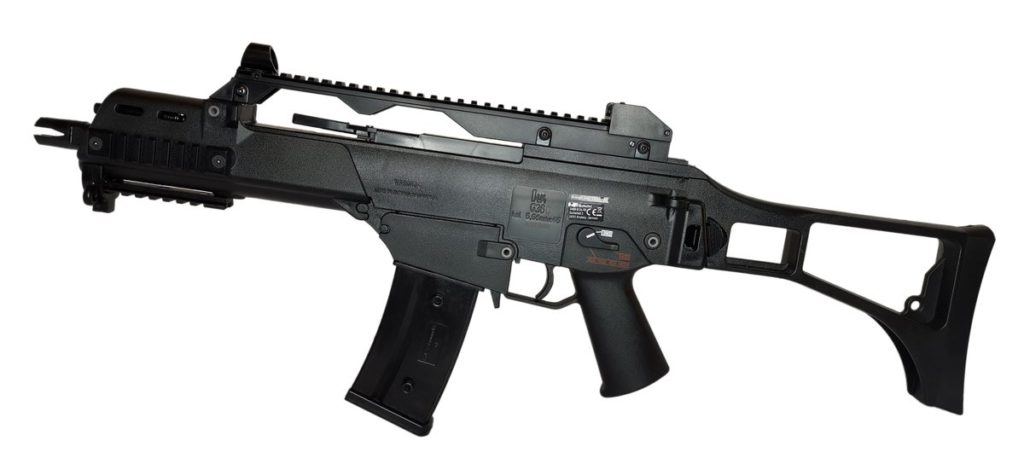 Material: Zinc Alloy and Nylon Reinforced Fibre
Overall Length: 630mm / 872 mm (stock unfolded)
Overall Weight: 2985g
Muzzle Velocity: 360~420 fps
Effective Range: 100~160 feet
Magazine Capacity: 470 rounds (6mm Airsoft BBs)
Hopup Type: Fully Adjustable
Firing Modes: Safe, Semi, Fully Automatic
Gearbox Type: Custom Ares Reinforced Version 3 Gear Box (Fully compatible with all TM aftermarket upgrade parts)
Battery: 8.4v Small Type / 7.4v LiPo Recommended (Not included)
Manufacturer: Umarex; OEM: Ares