History of HK G3A3
During the 1950s West Germany, like the other new NATO member countries, faced the need for rearming its army for the newest common 7.62x51mm NATO caliber small arms. Through some of the obstacles of G1 to G2 rifle apply, finally, Germany bought the manufacturing license for CETME rifle from Spain and transferred it to the Heckler and Koch(HK) company. And this is the first mass production firearm of the HK factory, It is also the beginning of a legendary generation.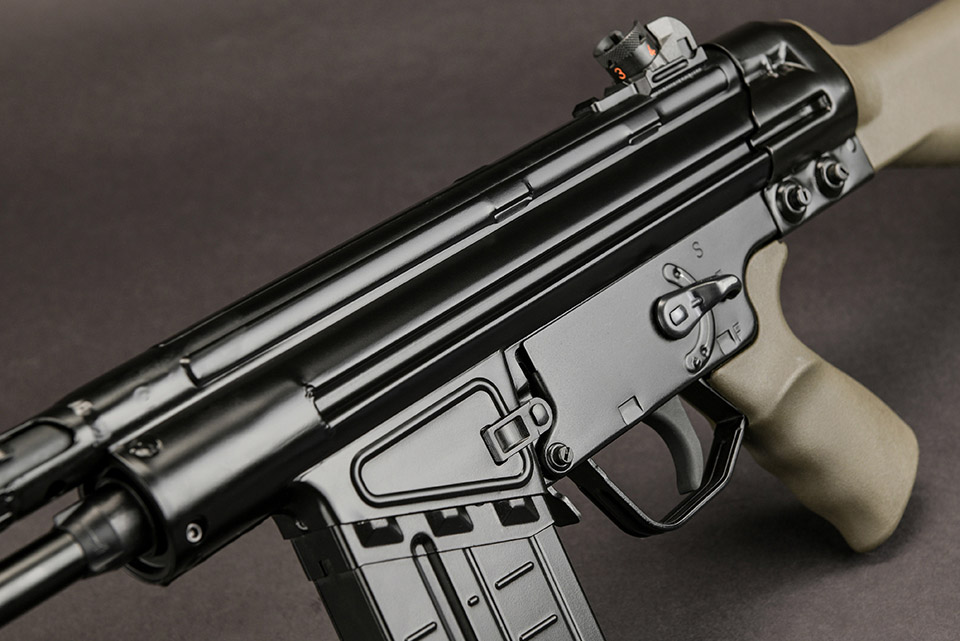 First Masterpiece of HK
HK slightly modified the design of CETME rifle, and in 1959 the Bundeswehr (W.Germany Army) finally adopted the CETME / Heckler -Koch rifle as G3 (Gewehr 3 – Rifle, model 3). The G3 rifle is a selective fire, magazine fed rifle, built using roller delayed blowback action, built using as many stamped parts as possible.
In general, the HK G3 rifle can be described as one of the best 7.62 mm NATO battle / assault rifles – reliable, versatile, controllable, non-expensive and, finally, very popular.Since that time The G3 was the standard rifle of the German army for several decades. Total of more than 50 countries during the last 40 years issued it to its forces, could be seen in every main conflict of the worldwide, Today, G3 and a wide variety of derivative firearms are still in service or manufactured in many countries, with different purposes and calibers, such like 9mm MP-5 submachine guns, 5.56 mm HK 33 assault rifles, 5.56mm and 7.62 mm HK23 and HK 21 machine guns, PSG-1 sniper rifles etc.Until 1995 that 5.56x45mm NATO caliber G36 rifle replaced the general firearm of Bundeswehr (Germany), the G3 in various modifications served as a general issue firearm and become an icon of 20-century 7.62mm caliber firearm, not only for German Armed forces but also for many other countries.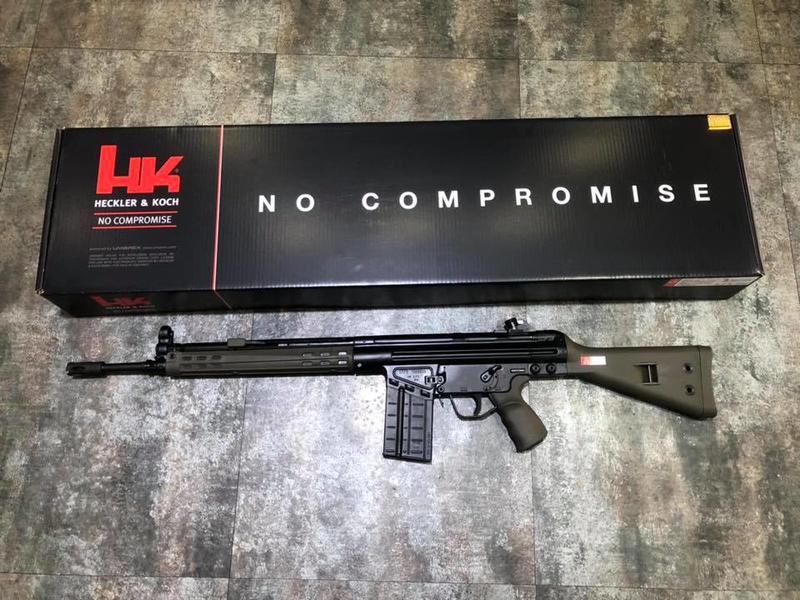 HK G3A3 Model – Early Version
The G3A3 is the first model mass produced for military service in the G3 series rifle. It's a combination of the steel stamped body and green polymer furniture have become an iconic appearance in the history of firearms. VFC obtained full HK/ Umarex authorization from the overall design, material, operation, appearance, as well as the engraving and trademarks, which are fully reproduced.

Realistic and Outstanding Functionality
Realism is included. With the mechanically similar operation of a GBBR, powerful recoil, last round stopping function, three-position fire selector, lightweight bolt and fire control configuration; it allows users to enjoy a fun and realistic shooting experience… and with lower maintenance costs!

Easy HOP-UP Adjusting
ONE PIN ACCESS! By removing just a single pin in the forearm and sliding it out of the way, you can access the VFC G3A3 GBBR HOP UP adjustment knob at the barrel base… and all without any extra tools!

VFC Newest GBB System
The VFC HK G3A3 GBBR is incorporates the VFC's optimization of stable system of GBB in the last 10 years, with new internal components and adjustments operation, While maintaining accurate structure inches, and the appearance of handling and detail, whether you are shooting on the field, or an attention to detail taste collection, VFC HK G3A3 GBBR can be meet!

Expectations of Future:
VFC HK G3A3 Combat Rifle
VFC continues to uphold the highest standards to build this classic firearm. and enjoy with recoil power and operating function, No matter if you are a collector, reenactor, impressionist, sport shooter, military or law enforcement training… or just an avid airsoft player; the VFC HK G3A3 will satisfy your needs. And this is just the beginning. Look forward to the future developments by VFC in the G3 family!

Umarex H&K G3A3 GBBR (by VFC)
1/1 Scale High Power Assembled Gas Blow Back GBB Rifle
GBB system with realistic blowback effect
Official H&K (HECKLER & KOCH) Licensed Authentic Marking on Body
Unique Serial Number on Body

Metal Lower & Upper Receiver
Polymer Handguard, Pistol Grip & Fixed Stock
Steel 400 Outer Barrel With Steel 55mm Flashider
Fixed Front Sight & Adjustable Rear Sight
Metal Housing 30 rounds Loading Capacity Magazine
Cocking Handle can be locked & released
| | |
| --- | --- |
| Item Weight (gram) | 3270 |
| Color | Olive Drab |
| Length | 1020mm |
| Barrel Length | ~430mm |
| Hop-up | Adjustable |
| Shooting Mode | Semi/Fully Automatic |
| Other Power Source | Top Gas |
| Magazine Capacity | 20 Rounds |
| Bullet Type | 6mm |
| Power (Muzzle Velocity) | 390 fps |
| Manufacturer | Umarex |