About KWA
Established in 1988, KWA has been the leadingdesigner and manufacturer of airsoft replica weapons for law enforcement and military training. Its reputation for quality, performance, and reliability makes KWA a recognized leader in professional airsoft products.In a time when airsoft development is focused on external replications and logos, KWA has been advancing airsoft technologies with the introduction of the NS2 Gas Blowback System and the 2GX Mechbox. Both product advancements increase the overall performance and reliability beyond all conventional standards of the industry. These products represent KWAs commitment to excellence and passion for engineering products that simply outperform.KWAs state-of-the-art manufacturing facility is located in Taiwan with an independent sales and distribution operation in the United States that services the Americas and all European Regions.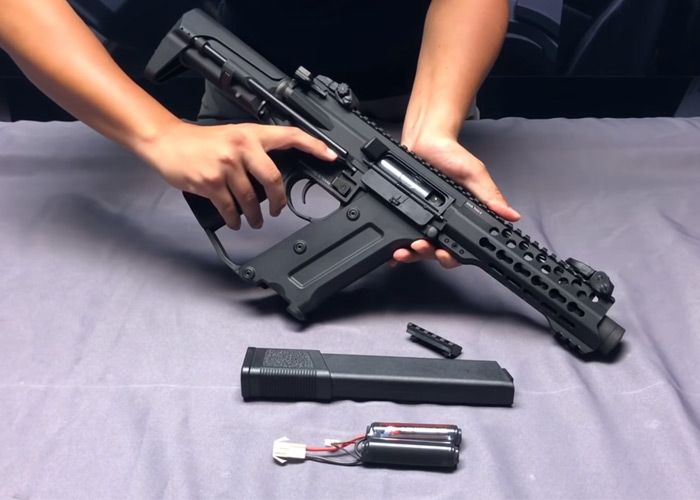 Features
Powered by KWA's upgraded VM4 v2.5 gearbox with adjustable FPS
Drop-in trigger ready, easily install your favorite MOSFETs or electronic triggers
7″ Aluminum M-LOK handguard and PTS Enhanced Polymer Flip-up sights
Rapid deploy PDW stock
Ambidextrous and oversized controls, including selector switch, mag and bolt catches, and aggressively styled ambidextrous charging handle
KWA's new ergonomic and rugged nylon polymer pistol grip with custom stippling
Metal upper and lower receivers, all Ronin 47 uppers can be used on any Ronin 47 lower, allowing for one rifle to fill a variety of different roles, from SBR to DMR
One piece rotary hop up

Continue down the legendary path of the Ronin with the KWA Ronin 47. Wander to and from different battlefields with the ability to adjust your weapon's FPS with KWA's Variable Performance System which allows you the freedom and mobility to engage enemies where you please. The RN47 is equipped with KWA's new "Cutter" Muzzle Brake, aggressive 7″ MLOK handguard, Gen. 2 PDW stock, and a paddle style magazine release similar to the QRF Mod 1's magazine release. Unleash full demon mode and drop in your favorite MOSFET/ETU in the RN47 gearbox to demoralize and demolish your enemies. AK47 style mid-caps complete the renegade look on this latest KWA AEG 2.5+.
Premium Pre Order Bundles gets you armed with exclusive Ronin 47 swag such as hoodies, t-shirts, and patches ready to join any skirmish at a moment's notice. At the top of the Pre Order tier tower sits the RN47 Premium Pack which includes the fabled RN47 Drifter Edition. The Drifter comes adorned with "Drifter Green" accented Cutter Brake, PDW stock rails, and trigger along with standard R47 swag.
FPS Range: 340-370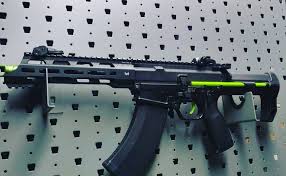 Specifications:
Length: 622mm – 743mm (24.50″-29.25″), Adjustable
Weight: 2812g (6.2lbs)
Inner Barrel: ~220mm
Magazine Capacity: 120rd Mid-Cap. Utilizes KWA Ronin 47 Magazines only.
Gearbox: KWA Ver 2.5 Full Metal
Motor: Long Type
Fire Modes: Semi/Full-Auto, Safety
Battery: 11.1v Small Brick Type recommended (Battery not included. Wired to stock with Deans connector)
Hopup: Yes, Adjustable
Package Includes: "47 Drifter" Edition Gun w/Green Flash Hider, Green Stock Rails, Green Trigger, Magazine, "47 Drifter" Neon Green Hoodie, "47 Drifter" Black T-Shirt, Green Flash Hider, Ronin 47 Limited Patch, Ronin 47 Limited Sticker, Ronin 47 Limited Reusable Cotton Face Mask