MP9 is a redesign and development machine pistol based on the Austrian TMP SMG and made by a Swiss Company in 2004. MP9 shared the same design with TMP with the following improvements: Equip with a new design folding rear stock, an Integrated Picatinny Top Rail and selective side rail, Fire mode selector and the new Trigger Safety. Also, its compact size allows user to carry their MP9 in its specail holster like their side arm. Now, MP9 is mainly used by law enforcement and army service like Swiss Police and Portuguese Army.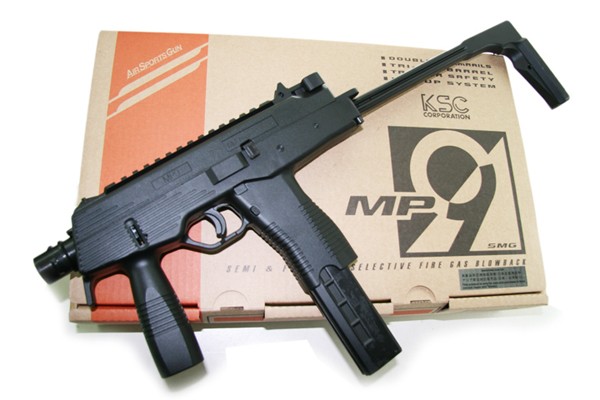 Features:
Metal Flash Hider which only attach the special sliencer for MP9 / TP9 only.
Polymer Upper body frame with full MP9 marking and top rail.
Polymer lower body frame with fixed fore grip and folding MP9 rear stock.
Semi Auto (1 dot) and Full Auto (3 dot triangle shape) fire selector.
Simple fixed front sight and rear ring sight.
Install with KSC System 7 GBB System.
Adjustable hopup system.
Metal made bolt carrier with unique serial number.
Realiestic break down same as real steel MP9 SMG.
Ready to go for 380 FPS (Green gas) and rof around 1200 rds/minute without modification.
Included Hopup Adjustment Key.
Included metal made 48 rounds MP9 System 7 Magazine.
Compatible with KSC MP9 Silencer.
Not Compatible with KSC MP9 Old sytem (Japan Version) parts and magazines.


Specifications:
Length: 530mm, 305mm (stock folded)
Barrel Length: ~150 mm
Shooting Mode: Safety (Trigger), Semi-Auto, Full-Auto
System: KSC System 7 GBB system
Power Source : 12KG (Green gas)
Weight (g):  1710 (gun with magazine), 2150 (with box)
Color: Black
Magazine Capacity: 48 + 1 rounds
Material: Metal and Polymer
Bullet type: 6mm BB
Power (Muzzle Velocity) : 380 FPS (Green gas)
Manufacturer: KSC (Made in Taiwan)