About G&G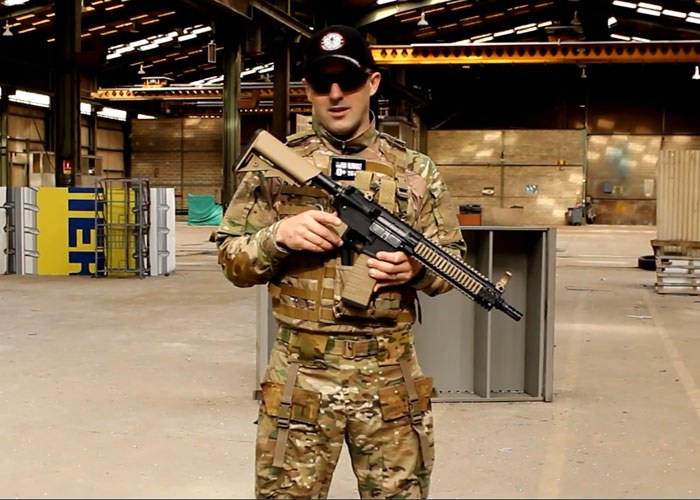 Established in Taiwan in 1986, G&G has always been determined to make the highest quality Airsoft products. G&G continues to find new designs, better materials, and innovative systems to make our products stronger and more competitive. We always focus on customer's needs and we believe that a high-quality product is the best sales pitch.It is our continual goal that our customers can enjoy the best possible experience using our products, and we strive to deliver the best quality product as the key to our success.

The CM18 MOD1 carbine replica by G&G was designed as a part of the Combat Machine project, which main objective was to provide high class replicas at a price, which could be considered as economical. Combat Machine replicas feature the highest, typical for G&G, quality of workmanship and work culture as well as high quality of used materials. The main factor allowing to lower the price is using a receiver made of high quality plastic, instead of metal. Another significant fact is that the receiver was made of polymer reinforced with fibreglass – just as the front grip, stock and almost all other plastic elements – while the outer barrel, stock pipe, swivels and most minor elements were made of metal.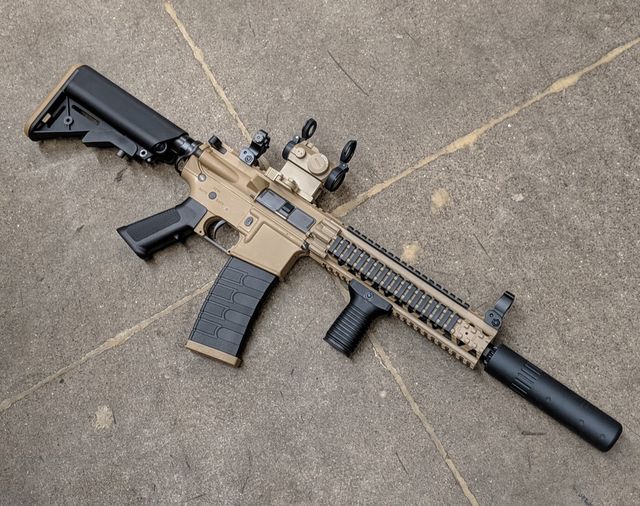 The replica has a SF type stock ending with a rubber buttpad which holds the battery. The stock can be regulated, allowing the shooter to adjust the length of the carbine to his own body type and preferences. The package contains a set of flip-up iron sights. The folding sights guarantee no interferance should a scope be mounted onto the gun.
CM18 MOD1 is equipped with a top RIS rail on the whole length of the receiver and a set of three long mounting rails in place of the front grip. This complete conversion enables to mount a whole range of additional accessories, starting with optical targeting devices and tactical flashlights all the way to laser target markers. The replica was made mainly in black, except for the pistol grip, stock, aiming devices, magazine and front rail covers which were made in tan.
The replica is sold together with a polymer mid-cap type magazine holding 120 BBs.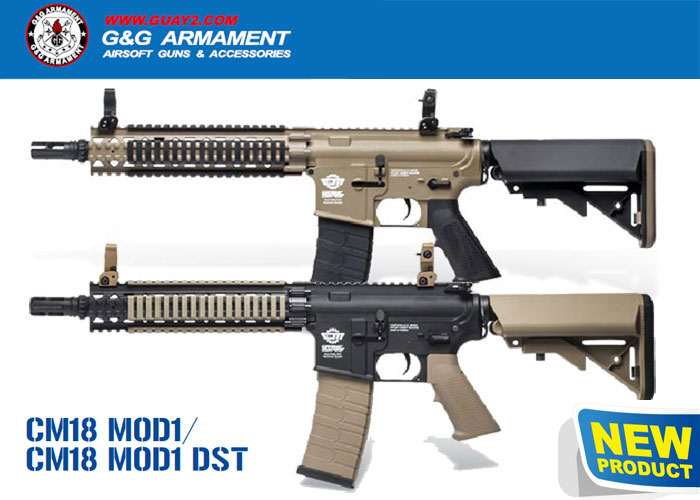 The replica has a v2 gearbox with 8mm ball bearing and allowing to achieve an initial muzzle velocity of ~395 FPS straight out of the box. Thanks to that and the use of 275 mm long inner barrel, the replica will suit perfectly for operating on short and middle distance. Inside there is a hermetic pneumatic system, equipped with high class chamber and HU rubber.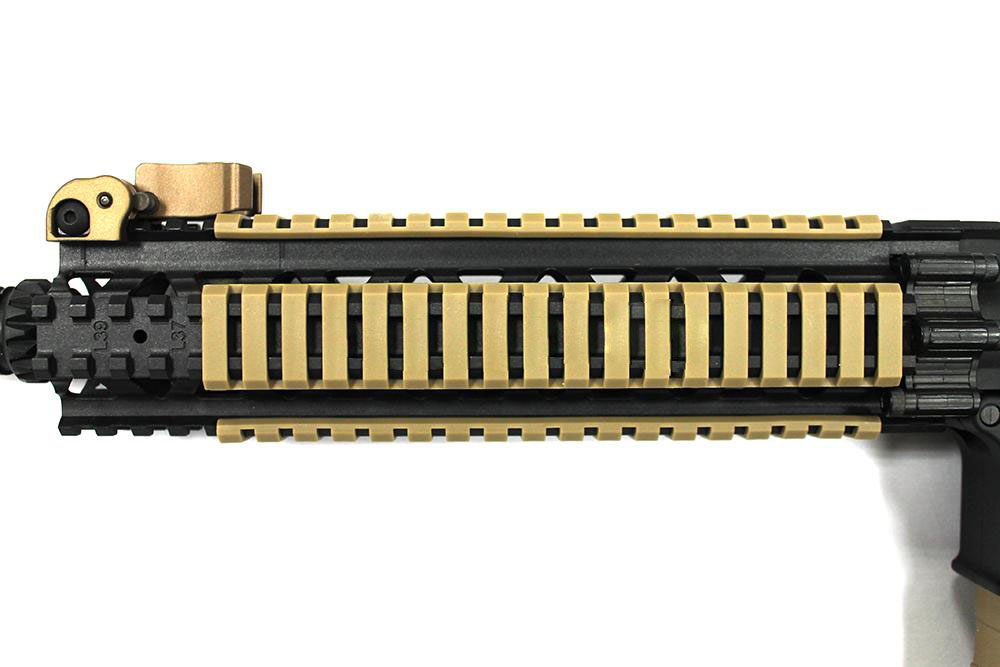 Features:
+ Nylon-Reinforced Polymer Receiver
+ Nylon-Reinforced Polymer Rail System
+ Full Length Top Rail for Optics
+ Flip-up Front and Rear Sights
+ Retractable Crane Stock
+ Ergonomic Pistol Grip
+ Integrated Steel Sling Loop
+ 4x Rail Ladder Covers included
+ 8mm Bushing Reinforced Gearbox
Length: 715mm-810mm, Adjustable
Weight: 2000g
Inner Barrel: 275mm
Magazine Capacity: 120rd Polymer Mid-Capacity. Works with Matrix, G&G, Tokyo Marui and other compatible M4 / M16 Series Airsoft AEG Magazines
Muzzle Velocity: 350~370 FPS (Measured with 0.20g BBs)
Thread Direction: 14mm Negative
Gearbox: Ver 2 Full Metal, Fully Upgradeable
Motor: Long Type
Fire Modes: Semi/Full-Auto, Safety
Battery: 9.6v Small Butterfly Type recommended
Hopup: Yes, Adjustable
Package Includes: Gun, Magazine, Manual, 9.6v Butterfly Type Battery, Smart Charger
Manufacturer: G&G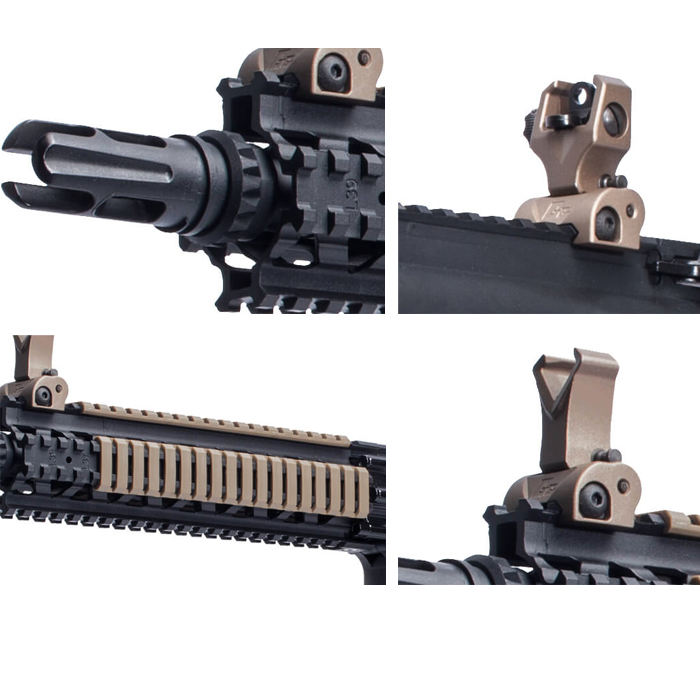 The weapon features a Polymer Receiver, Hand guard, Stock, Pistol Grip, Outer Barrel, Flash Hider and Sights, with Alloy Buffer Tube, Sling Plate, Mock Charging Handle and Internals. The weapon features a full length top 20mm RIS / RAS Rail, with a connected Hand guard Rail and Receiver Rail, which allows the use of large Sights and Scopes, as well as advanced Holographic and Magnifier Setups. The Hand guard features a Four Point 20mm RIS / RAS System, allowing for a wide variety of Aftermarket Parts and Accessories, such as Torches, Lasers, Grips and Bipods. The outer barrel also features a 14mm Counter Clockwise CCW Thread, which allows for a wide range of Suppressors and Tracer units, and the Flash Hider can easily be removed by hand. The stock of the Airsoft gun is adjustable up to 5 points, and is of a Crane Stock Design, allowing for Large Ni-Mh battery and Li-Po to be fitted, allowing the rifle to be used effectively by all sizes of user. The rear of the weapon features an ambidextrous Sling Plate, allowing for a variety of one point sling setups to be used. The weapon also comes with fully adjustable Flip-Up Iron sights and a set of Four Rubber Rail covers, giving the weapon a more unique look over other rifles. The gun also comes with a G&G Style Mid-Cap magazine, meaning no rattle whilst moving. This is the perfect gun for any Airsoft Skirmisher looking for a good reliable primary weapon, with lots of space for customization.
Features:
Lightweight yet durable Polymer Construction
Full Length Top 20mm RIS / RAS Rail for large Sight, Scope and Magnifier Setups
Four Point 20mm RIS / RAS Handguard for Grips, Torches and Lasers
Lots of Rail Space for lots of aftermarket Sights, Scopes and Attachments
Removable 14mm CCW Flash Hider
Accepts a wide range of STANAG Style M4/15/16 Magazines
G&G Style Mid-Cap Magazine
Adjustable Hop-Up Unit for Range and Accuracy
Removable Flip-Up Ironsights
Ironsights adjustable for Battle / Standard Sight
Ironsights adjustable for Windage and Elevation
Textured Standard AR-15 Finger Ridge Style Pistol Grip
Ambidextrous Rear Sling Plate for multiple Sling Setups
Five Position Adjustable Crane Stock, perfect for Ni-Mh Batteries
Rubberised Butt Plate for better Weapon Hold
Rubber RIS Rail Covers included for extra Grip
Package Includes:
Combat Machine CM18 MOD1 AEG Rifle
Flip-Up Ironsight Pair
Sight Adjustment Tool
Magazine
User Manual
Unjamming Rod


The G&G CM18 Mod1 is one of the company's "Combat Machine", intermediate level airsoft rifles. This airsoft gun is made mostly of ABS plastic – including the rail system, upper & lower receivers, stock, and mostly everything else save for the charging handle, screws, flip up sights, stock tube, and bolt release. While it is true that being plastic makes a gun less durable than metal over the course of time or in receiving impacts, it also means that the CM18 Mod1 is a VERY light airsoft carbine to field. Being light weight has its own benefits as well. The trademarks on this airsoft gun are cool to look at but simply painted on as opposed to more advanced airsoft guns which usually have some stamped metal trades. Again, this is their Combat Machine line of intermediate airsoft guns, so it's to be expected.
Internally, G&G comes through with a metal version 2 gearbox which is fully upgradeable but very nice right out of the box. G&G has put a lot of quality into the gearbox of this airsoft gun and it shows. The gun visited our chronograph and we were happy with it at about 345 FPS, which is great for indoor play. We were able to get a rate of fire of about 14 RPS while using a 9.6V NiMh battery – again, decent for indoor play. We experienced no hams or misfires while playing. In fact, the magazine was really cool in that it fed every single BB it had in it – but more on that later. Using the fire selector switch is smooth which crisp detents for each fire select position – something that I like to see in all my airsoft guns for both comfort and functional reasons. If your selector switch is really squishy, you might not be able to effectively engage a particular fire mode or get caught in-between positions with the heat is on. With as crisp as these detents are, it is very easy to move from one to another and "feel" when they are reached.
The included 120 round, mid-cap magazine has a cool, Magpul EMAG style look while also featuring an extending follower which will eventually be used in the company's upcoming line of MARS gearbox airsoft guns. Company reps tell me they should have some more on these new airsoft guns at the SHOT Show in January. Apparently, the extended follower will stop the gearbox when the magazine is dry. Right now, this extended follower pushes every last BB out of the magazine. This is a real bonus as it means that you get to fire EVERY BB from it – as opposed to many midcaps which leave a couple in the mag due to poor spring tension or length.
My biggest issue with the CM18 Mod1 is the matter of its flip up sights. From an aesthetic level, they are pretty large with strange, flared sides which, along with their gaudy gold/tan coloring, resemble something that would be found at the Luxor Hotel and Casino in Las Vegas, NV. Also, engaging the sights is a chore, especially when you are wearing thicker gloves, as it requires you to press in a small piece of metal to unlock the sights. The problem is that this piece of metal is so small and close to a larger piece of metal (the base of the sight) that it can be hard to reach when needed. My advice is to either use these iron sights in a deployed position all the time or remove them altogether and use another optic or sighting solution.
Overall, the G&G CM18 Mod1 airsoft gun is a fine choice for anyone looking to start out in the sport of airsoft or simply offset their sniper, shotgun, or support gunner loadout with a carbine style airsoft gun. It would also excel in indoor, CQB arenas like TacCity in Fullerton, CA over outdoor fields where you could be outclassed by more advanced, higher performing airsoft guns.
source: https://gamingshogun.com/2013/12/10/gg-cm18-mod1-airsoft-gun-review-airsoft/
*Your privacy is important to us, we always protect our club member and never leak out any information.