The Silverback MDR-X is an airsoft AEG (Automatic Electric Gun) rifle that is based on the innovative Desert Tech MDR (Micro Dynamic Rifle). It is a compact and versatile rifle known for its unique design and solid performance. Here are some key details about the Silverback MDR-X:
Design and Build: The Silverback MDR-X features a high-quality polymer construction, making it lightweight and durable. It replicates the aesthetics and ergonomics of the real Desert Tech MDR, which is known for its futuristic and modular design.
Caliber and Firing Mechanism: The MDR-X typically fires 6mm plastic BBs and operates on an electric firing mechanism. It utilizes a gearbox system powered by a rechargeable battery, providing semi-automatic and full-automatic firing modes.
Adjustable FPS: The MDR-X often offers adjustable FPS (Feet Per Second) settings, allowing you to adapt the rifle's power to different playing fields or game requirements. This flexibility is particularly useful in scenarios where certain FPS limits need to be adhered to.
Rail System: The MDR-X comes equipped with a full-length top Picatinny rail, as well as additional M-Lok and Keymod rails on the sides and bottom. These rails provide ample space for attaching various accessories such as optics, grips, lights, and lasers, allowing for customization based on your preferences and mission needs.
Magazine Capacity: The MDR-X usually accepts standard AEG magazines, which can vary in capacity. Depending on the specific model, it can accommodate various magazine sizes, providing options for different play styles and scenarios.
Adjustable Stock: The MDR-X often features an adjustable stock, allowing you to customize the length of pull to fit your shooting preferences or body size. This adjustable stock enhances comfort and maneuverability during gameplay.
Hop-Up System: The MDR-X is typically equipped with an adjustable hop-up system, which helps control the trajectory and accuracy of the BBs. It allows you to fine-tune the hop-up to achieve optimal range and accuracy on the field.
Realistic Controls: The MDR-X replica strives to provide realistic controls, including a functional charging handle, ambidextrous fire selector, and magazine release. These features enhance the authenticity and handling experience of the rifle.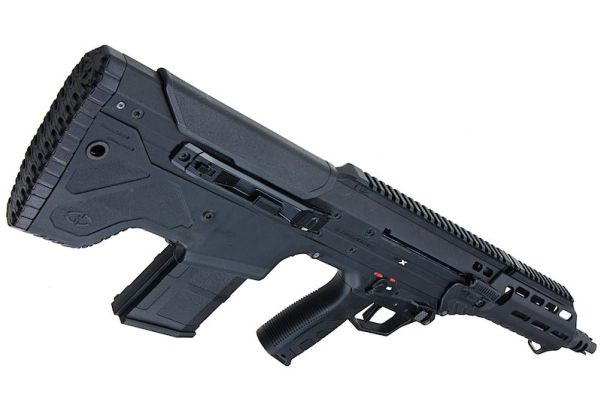 Summary:
Fully Licensed by Desert Tech
Faithful Replica of the Desert Tech MDR-X
Fully Ambidextrous
M-Lok Handguard
Reversible Ejection Panels
Simple Take-Down
Quick-Change Spring System
Includes 2 Additional Springs
78-Round Mid Capacity Magazine
Video: