Introduction
Introducing the G&G Guaiguai SGR556 SG556 AEG Electric Gun, a cutting-edge airsoft rifle that boasts an array of advanced features and a brand-new G3 system. Crafted with precision and attention to detail, this airsoft gun offers a formidable combination of performance and durability. Designed to excel in the field, the G&G Guaiguai SGR556 delivers an unmatched shooting experience for airsoft enthusiasts of all levels.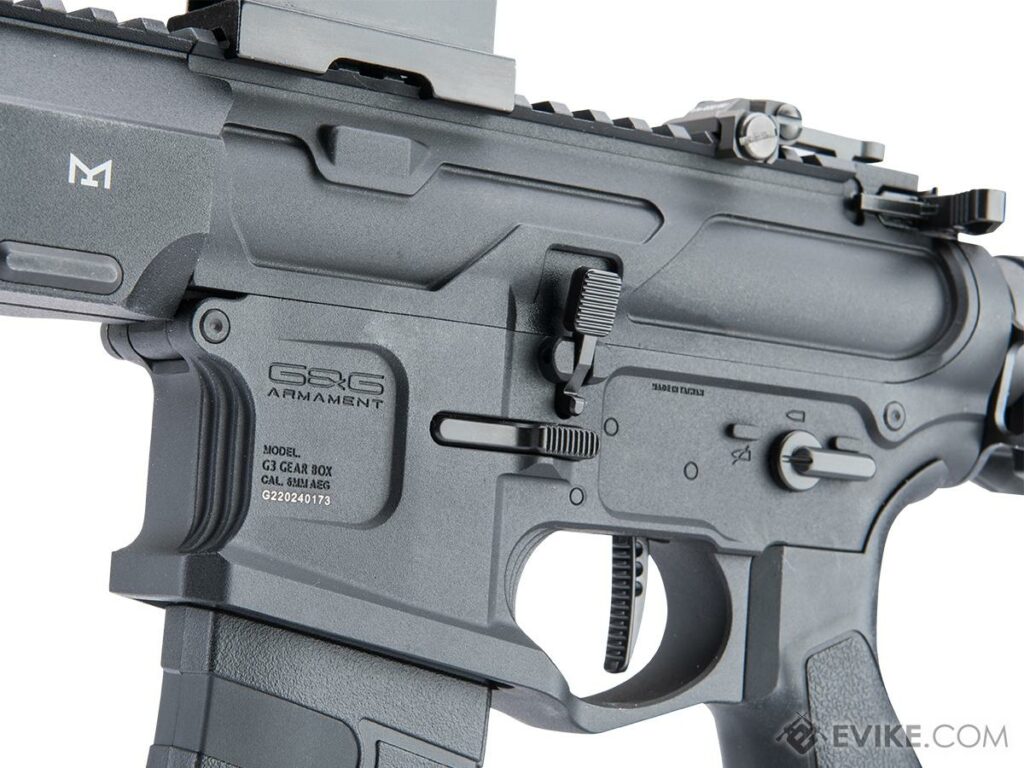 Summary
Muzzle velocity of 105±10m/s for both power and accuracy.
Full metal upper and lower frame, paired with an aluminum alloy M-Lok System 11.5″ Handguard and metal flash hider for ruggedness and reliability.
Integrated bow guard design and QD quick-release strap button holes for enhanced comfort and usability.
416-type motor grip and enlarged beaver tail ensure a firm and ergonomic grip.
Bi-lateral fire selector and magazine discharge button for seamless transitions between shooting modes.
Simulation handle design and bolt release button add to the realistic feel.
New front-adjustable gas conduit Hop seat with 36 adjustable segments for precise BB trajectory control.
No need for a special magazine, thanks to the detent function that allows continuous shooting.
Larger battery M4 stock for extended playtime on the field.
Detachable folding front and rear sights for different shooting preferences.
14mm CCW muzzle to equip silencers or light emitters for customization.
Split gear box for quick-draw precision tubes and quick-change springs, enhancing adaptability.
Manual or remote control shooting mode, customizable trigger stroke, and other adjustable settings for versatility.
Made from durable metal, composite, and copper materials.
Equipped with a strong magnetic long axis motor, providing reliable performance.
Gearbox bearing: G2 8mm ball bearing.
Inner tube size: 330mm.
Magazine capacity: 120 rounds silent magazine.
Overall length: 796.3mm (without the stock).
Weight: 2673.8g.
Electronic trigger and chip integration for advanced features.
A versatile and powerful airsoft rifle suitable for players of all levels.
Video review